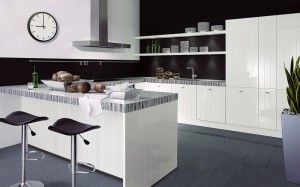 Currently the kitchen is not just a place for cooking and eating food, but quite a full-fledged part of the premises, whose appearance is of great importance.
Views on the kind of cuisine change over time: Hood appeared to facilitate air, disappeared door, separating it from the living room.
Choosing kitchen furniture begins with its design. When buying furniture necessary to consider the shape and size of the kitchen. Necessary to measure the kitchen area, draw a schematic drawing of the furniture. Necessary to compare the length of the walls and ceiling height with optional wardrobes, shelves, bar counters, kitchen table and other furniture. Kitchen-unit, как правило, includes the upper and lower cabinets and cupboards column. Each cabinet is equipped with doors, shelves and drawers. Base cabinets are placed in a row along the wall, so that they do not distinguish them better to buy together.
In stores large range of kitchen units and each easily able to pick up something for the soul. You can contact the store for help consultants, which will not only help you with the choice, but also make the computer version of the future interior of your kitchen.
At the entrance to the kitchen first, that catches the eye is the facades. Facade - it upside furniture, example is the panel cabinet doors or drawers. Thanks facade kitchen becomes an elegant appearance. Of the total value of the kitchen to the front elevation accounts for a large part of the sum. Therefore, the choice of the facade should be approached responsibly.
The cost of kitchen units will primarily depend on the materials, from which it was made. Distinguish facades and facades of wood chipboard, plastic-coated, and MDF facades. Facades of natural materials are environmentally friendly, but if they are made of rare wood, then their prices will be much higher.
MDF facades consist of plates, which are highly durable, moisture resistance and environmental cleanliness. These facades are easy to clean and does not absorb odors and moisture.
Facades of MDF usually varnished, enamel or PVC film. MDF may have different types of coatings: pearl, relief, matt, glossy, etc..
The advantage of these fronts is, that they can pick almost any coloring. However, painted facades are more expensive, than facades, lined with foil. Plastic facades have a maximum lifetime and do not fade in the sun.
Plastic facades, made by cold pressing, may have geometric distortions. On the surface of plastic facades fingerprints hands.
When buying a kitchen Must pay attention to quality worktops. Durable countertop must be water-resistant impregnation, closing and polymer must be coated ostformingom.
Before buying kitchen cabinets need to check the strength of roofs, hinges, loops at the door. Appearance headset must be combined with high quality. You should also check the internal space lockers Headset, ie. that, what lies behind its appearance. Small kitchen purchase of additional equipment better, whose doors to save space opened up or shifted vertically. Almost not used cabinets with static shelves. Increasingly popular are tandemboxes, ie. samovydvigayuschiesya cabinets can withstand loads of up to 50 kg.
For darkened kitchens are well suited lemon, pink, Apricot, peach tones. In the ever-warmed kitchen will look good blues, gray and green. Should not be used on the walls of contrasting colors and complex patterns.
See also:
Bathroom Design
Design houses
Panel floor

Плинтуса на пол

Gold paint for interior decoration