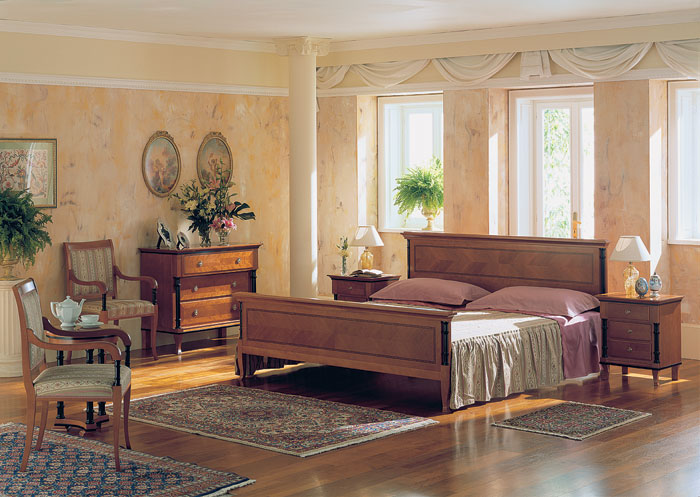 To date in the field of interior bedroom are several styles. This high-tech, minimalism, classic.
Interior design in the style of high-tech is becoming more and more popular. It will allow to be a modern bedroom, without depriving, however, comfort. For registration of bedrooms in high-tech style characterized by the use of pure colors: black, White, gray. Do not use variegated colors and different patterns. Natural stone, Fiberglass, Metal materials are those, which are used in the design. Textiles with metallic threads is the best complement the interior of bedroom. A characteristic feature of the style – shine, so you can use other synthetic fabrics (Capri, nylon).
Speaking of ceilings, here the ideal tension and suspension structures. Bedroom ceiling can simulate the night sky. Floor can be used tree, suit also linoleum.
From the wallpaper should be abandoned. Exceptions are metallized wallpaper. Decorating the walls are not welcome. However, you can hang black-and-white photographs or paintings with abstract image.
Zanaveski, curtains excluded, shutters are used instead, roll – curtains.
Need to pay close attention when selecting bedroom furniture. It should be correct and simple geometric shape. You can not use variegated color. Instead of bulky cabinets mounted shelves, open or closed shelving.
Door made of metal or glass is best fit into the interior rooms, made in this style.
Minimalism – Today also a popular destination. Bedroom, done in this style confused with anything else you can not. The main motto of bedrooms: no frills. For typical minimalist use of natural materials.
For the design of bedrooms in this direction is not used more 3 colors. And they should be restrained.
For minimalism is not very important, What will be covered walls (wallpaper or paint), if only they were plain and unadorned.
Discouraged in minimalist bedroom and textiles. Linens and monochrome veil – вот, What should confine. Even at the windows instead of curtains blinds installed.
Only, then in a bedroom in the style of minimalism should be a lot, so it is light. Although his sources must be extremely laconic. Naturally, in a bedroom chandelier will not, They will be replaced with spotlights.
Classic style has always been, is and will be in vogue. So what is this style in the bedroom?
Referring first to the main element of any bedroom – bed. Bed, ideal for this style, provides high resolution and material, from which it is made. Most often it is a natural or artificial tree, and metal. Canopy – very trendy addition to the bed, if, of course, allow ceilings (they should be high enough). Welcome decorative pillows, but there should comply with the measure.
Ideal thoughtful design window – This is another feature of the classical style. Curtains should be graceful, made of materials, giving severity. Such, as brocade, velvet or taffeta. You can decorate them with tassels.
In the design of decorative plaster walls used, ceramics, textiles and even stone. The most important thing, that the material is eco-friendly.
The floor is a flooring of fine wood.
Also important in the design of classic bedrooms and ceiling. It may be suspended ceilings and large format printing. You can decorate the white stucco.
Fit well with the classical style bedroom interior luxury chandeliers, ornate lamps and sconces.
What colors are preferred in classical bedroom.
The most commonly used pastels, such as sand, cream. It is possible to use various color shades of white, combination of white and dark green or blue. Gold paint gives kind of wealth.
It should be noted, that well-being depends on the morning of, he slept at night. For a comfortable sleep is important, every detail: Mattress, sheet, pillow, temperature, lighting ... man in life often have a lot of refuse.
Comfort is – it is not the, than can be neglected. Create indoor comfort, where a person is resting from all, relax and recuperate, helps design decision in the design of bedrooms.
See also:
√ √ Yaeyuhъye eyutehhээ her ъyuyeyehftshsch
Change the geometry of the room
Glass and metal in the interior

Плинтуса на пол

How to paint over the seams on the tiles alabaster?