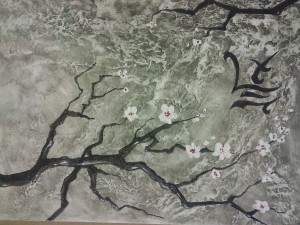 In order, to create the interior of a certain type, shows the use of decorative plaster, which is an excellent fit for focusing on a particular section of the wall, emphasizing the interior features.
The main stages of work on the surface finish with decorative plaster
In order to properly perform finishing work using plaster, must adhere to the following recommendations of experts on the process of finishing the interior of the:
- essential quality of the work is the removal of the material from the previous finish of the wall in order to avoid situations involving possible detachment of decorative material;
- make the surface smoothing by using a standard cement mixture;
- perform a preliminary surface treatment by means of the use of special materials with antibacterial spectrum of action;
- make the application of ready-mixed, to the wall using one of the available technology of the process;
- leave the plaster on the wall to dry.
It is noted, that the use of plaster on all the walls of the room is not appropriate, since the overall picture of the use of technology means decorating may not be quite clear. In order, that the effect of the method was clearly visible is recommended to finish a small area of ​​the wall. Как правило, finish produced at the location of fire: as artificial or electric, and full.
The need for additional coverage
It is also recommended to cover the resulting coating with a special paint shade required in order to obtain surface of the deep color.
To improve the adhesion of plaster to the wall surface of the wall should perform primer. Priming the wall made by using a special solution of the substance sold in stores or construction areas diluted in the cool clear waters of PVA glue to dissolve. This mixture is also suitable for priming the walls.
It is also possible using the pre-treatment of certain substances to minimize the percentage of mold or cracking of the surfacing material.
The positive points when you use decorative plaster
By choosing decorative plaster, for use as a surface treatment material to be understood available positive aspects. Among the main stand out the most important points:
- no need to align walls;
- getting fit harmoniously into the interior surface;
- perform spray mixture in a short time frame;
- No need to comply with temperature control and monitor drafts when working;
- ability to change the color scheme of finished surface, depending on the varying preferences;
- conducting wet cleaning to maintain cleanliness in the residential or office space.
Having an understanding of the positive aspects associated with the use of decorative plaster become more clear its popularity in the modern world in the development of situations the choice of finishing material, to place at the beginning of the repair work.
See also:
√ √ Yaeyuhъye eyutehhээ her ъyuyeyehftshsch
Examples of dividing the room into zones
Change the geometry of the room
Plinth sex
How to paint over the seams on the tiles alabaster?